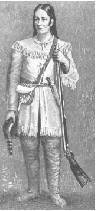 Col. Davy Crockett ~
Commander ~ Tennessee Volunteers
Davy Crockett came to Texas from Tennessee with 18 Volunteers, just for the fight! He was a key figure in the Alamo, keeping not only his men's moral up, but also the moral of Jim Bowie's men after Bowie got sick with pnuemonia.
Davy Crockett and his men were some of the last men fighting, as they fell back to the Chapel for a better line of defense. They were all killed in or near the Chapel, or what is now known as
THE ALAMO
For more GREAT pictures of the Alamo, check out my Alamo Picture Page!